Society of Insolvency Practitioners of India (SIPI)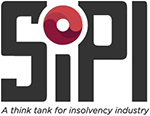 SIPI was set up in 2009 by the leading insolvency experts in the year 2009 prompted by the Ministry of Corporate Affairs to serve as a representative body of insolvency practitioners. As a different framework for licensing and regulation of insolvency practitioners has been introduced under the recently enacted Insolvency and Bankruptcy Code 2016.
Society of Insolvency Practitioners is the first independent think tank dedicated to the cause of insolvency and development of soft infrastructure of insolvency industry.
SIPI also serves a special purpose vehicle of INSOL India to deliver its technical, educational and capacity building programmes.
Another role of the think tank is to undertake research and develop best practices and standards for the insolvency industry. SIPI offers assistance in the development of the capacity in stakeholders forming part of the insolvency system through conferences, workshops, seminars and publications.
SIPI is chaired by Sumant Batra, Chief Mentor, INSOL India.
For more details please visit www.sipi-india.com
Best Practices Task Force with SIPI
SIPI has set up a Task Force on Insolvency Best Practices. The idea is that by designing this set of Best Practices the general quality of Insolvency Professionals would improve and the mutual trust between as well as the trust in the Insolvency Professionals work by the general public would be enhanced. Consequently Insolvency Professionals would be able to work more efficiently, which once again would enhance the trust in the insolvency profession on the market.
The recommendations of the Task Force will be reviewed by a Joint Committee of SIPI, INSOL India and ASSOCHAM. Draft Guidelines will be placed in public domain for comments. Stakeholder consultation will be held. These will then be finalised and endorsed by the Board of SIPI, INSOL India and ASSOCHAM.
The members of the Task Force are:
Pulkit Gupta, Ernst & Young, LLP (Chairman)
Abhishek Anand, Partner, Kesar Dass B. & Associates (Convenor)
Suharsh Sinha, AZB Partners
Sagar S Shankar, Financial Sector & Access to Credit, International Finance Corporation, The World Bank Group, New Delhi
Dr. Risham Garg, Assistant Professor of Law & Director, Center for Transnational Commercial Law, National Law University Delhi
Debanshu Mukherjee, Vidhi Centre for Legal Policy
Shreya , Vidhi Centre for Legal Policy
Alka Kapoor, CEO, Designate, ICSI IPA
Lakshmi Arun, ICSI IPA
Dr. V.K. Singh, Associate Professor & Head, School of Corporate Law Indian Institute of Corporate Affairs, Plot No. 6-8, Sector 5, IMT Manesar, Gurgaon (Haryana 122051)
Navneet Gupta, Chartered Accountant
Chandan Kumar, ASSOCHAM
Harsh Doshi, Risiko Consulting
Dr. Vaneeta Patnaik, Assistant Professor, National University of Jurisdical Science, Kolkata
G.P. Madan, Advocate
Vimlesh Chaurasia, Risiko Consulting