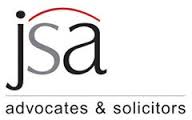 J. Sagar Associates (JSA) is a leading national law firm in India comprising over 300 professionals, with offices in Ahmedabad, Bengaluru, Chennai, Gurgaon, Hyderabad, Mumbai and New Delhi.
The mission of the Firm is to provide outstanding legal solutions in the chosen practice areas with a strong emphasis on ethics. Clients benefit from the expertise and experience as a large firm while still enjoying the privilege of personal attention and responsiveness of a small firm.
Our Practice areas are - Banking & Finance; Capital Markets & Securities; Dispute Resolution; General Corporate Commercial; Mergers & Acquisitions and Private Equity; Projects; Regulatory & Policy; Tax, Customs & Trade; and Corporate Compliance, Anti-Corruption & Investigation.